Vacationing in Vietnam? You Must Visit This Attraction!
Vietnam is one of the most popular tourist destinations in Southeast Asia. However, even though it is classified as a cheap place for vacation, Vietnam can give you an unforgettable experience.
Take a peek at the following favorite tourist destinations in Vietnam!
Da nang
There are many amazing tourist destinations in Da Nang. The city is famous for its beautiful beaches and charming nature. For the accommodation, you do not need to worry. There are many accommodations to stay in. One of the Best Hotel Danang is Premier Village Danang Resort.
Hoan Kiem Lake
If you visit Hanoi, you can stop by one of the tourist attractions called Hoan Kiem Lake. Located in the middle of the city of Hanoi, Lake Hoan Kiem has the meaning of "returned sword," which was adapted from the legend of King Le Loi. Vietnam residents believe that in the past, there is a magical sword from this lake. The sword can make china go away from Vietnam. After drive-out china, then this sword is returned to Golden Turtle (God) in the lake.
Therefore, in the middle of this lake, you can see "The Golden Turtle" temple. Now the lake is a sports center and also a place of natural learning for Hanoi residents.
Sa Pa Terraces
Vietnam is an agricultural country with rice as a staple food. Here, you can find a stretch of soothing green rice fields. One of the most famous tourist attractions in Vietnam is the terraced rice fields in Sa Pa City, Muong Hoa.
Here, you can enjoy the green rice fields and exotic panoramas. Moreover, you can go trekking and get to know the Hmong people who live in this area.
Marble Mountains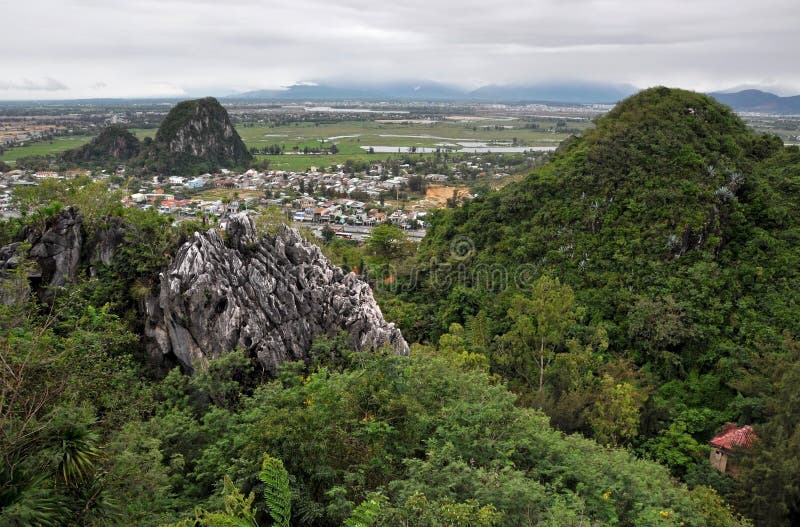 Another Vietnamese landscape suitable as a tourist destination is the Marble Mountains. Located in the Ngũ Hành Sơn region, south of Da Nang city, Vietnam, this place consists of 5 hills that symbolize the five elements. In this place, you can explore the caves and Buddha statues contained therein.
In this tourist area, you can also find religious tourist destinations such as historic Buddhist sites in the form of pagodas and temples.